What makes the NPOAuthority the best?
Compare Prospect Research Companies — Shop pricing and functionality
— The NPOAuthority specializes in nonprofits under 2 million and thanks to our partnership with DonorSearch's proprietary philanthropy database, the NPO AUTHORITY provides the best bulk screening services in the industry. Our bulk screening services are comprehensive and timely, so you can efficiently identify the donors you need and focus on fundraising efforts. Wealth Screening Companies have the ability to: Query and sort screening results based on multiple data sets, including: ratings, state, giving capacity, wealth capacity, real estate, customized user fields, giving categories, and more.   BUT NOBODY can match the price of THE NPOAUTHORITY.
NPOAuthority Delivers:  Prospect Research Services
Npoauthority.com  provides comprehensive data on a donor's wealth, then goes beyond to assess both their capacity to give and, based on their giving history, how likely they are to give larger gifts to you. This information is integrated with CRM's seamlessly so you can identify greater giving potential and capacity in either your current database or from an acquisition list.
With prospect research, you can:
Identify major gift donors

Target solicitations to appropriate constituents

Gauge how much money to "ask" for

Save time and campaign costs
THE NPOAuthority Difference:
Instead of assuming a prospect will be philanthropic because they are wealthy, The NPOAuthorityProspect Research Software looks for prospects who are known for their philanthropy first, and wealth second. This proven methodology is based on extensive research that shows a qualified Major Gift prospect's top characteristics are philanthropic driven: giving to your nonprofit and giving to other nonprofits.
"This Prospect Research software tool has enabled us to increase cash and pledge donations, as well as our major gift prospects' involvement with the College, such as identifying potential board members or development committee volunteers. We were able to quickly realize a single pledge of $50,000 from a former board member previously giving $10,000 a year! "    
Screening Your Donors in Bulk
ProspectView Screening includes a unique 5 step process, which uncovers those who best fit the characteristics of a major gift prospect.
RFM Analysis – An internal analysis of the relationship between the prospect & your nonprofit.
Philanthropic Review – A top to bottom philanthropic review on every prospect submitted.
Wealth Review – Top to bottom wealth review.
Assessment Process – Verification of the data by a prospect researcher increases the accuracy of the data & saves you time.
Extended Analytics – Combination of internal & external giving information for easy to comprehend scores.

Prospect Research tools:
The following is included to help you focus efforts on those who have a proven philanthropic history, an inclination to give, and have the capacity to give.
Complete philanthropic review of all records submitted

Complete wealth append on all records submitted

Likelihood scores for each record submitted

Assessments & verification of the data conducted by prospect researchers

Interactive Totals Table Summary Report linking to your prospect's profile

Executive Summary Report

Analytics for each prospect, including an Internal RFM Ranking, External Philanthropic and Wealth Ranking, Planned Gift Score, Major Gift Score & Annual Fund Score

Prospect Rankings that incorporate prior philanthropic activity

Prospect Rankings that incorporate current wealth & asset markers

Color coded results for easy understanding

Personal delivery (via GoToMeeting) & training of the results at no additional charge.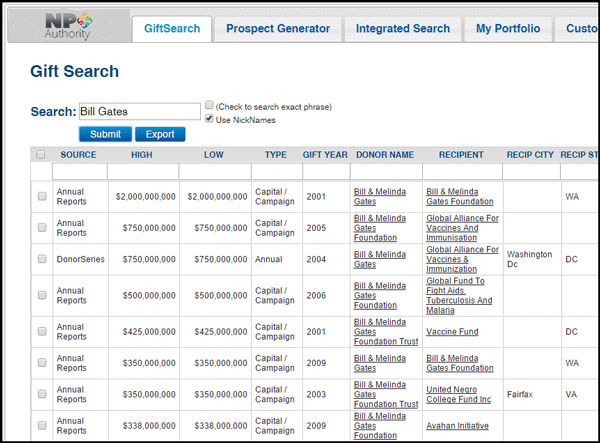 LOOK UP DONORS IN REAL TIME
A ProspectView Online subscription is a quick way to find information regarding your donor's philanthropic history and wealth affiliation. Databases include philanthropic information, wealth information, and now INSTANT and SPECIFIC annual report references regarding your donor's history and involvement with other nonprofits.
Unlimited access to Integrated Search, Gift Search, Wealth Search, Prospect Generator & Ask Analyzer ALL IN REAL TIME – SO YOU CAN TAKE ACTION RIGHT AWAY

The ability to search for philanthropic and wealth information regarding individuals, businesses, and/or foundations

Access to philanthropic databases, which include printed annual report data, online sources & political giving

The ability to filter giving results by donor name, geographical location, gift amounts, interests & other keywords

The ability to create and customize your own "ask" amounts using a Custom Giving Capacity Calculator

The ability to search for donors of other nonprofits

The ability to search a prospect's wealth affiliations, board affiliations, nonprofit affiliation, & biographical data